Art Work Book Bootcamp is a 3-day engaging creatively juicy workshop. This new and exciting bootcamp is a new offering that is designed to saturate the audience with visually enriched multimedia presentations that introduce the newly revised, 1990 publication,The ArtWorkBook series. This five part series of presentations introduces the art enthusiast to thousands of images and ideas to inspire a productive year with whatever level of art you presently teach. First year, second year, third year, fourth year, and Advanced Placement; Studio art portfolios of very talented individual students as well as portfolios of successful projects will be shared in these exceptionally rich multimedia presentations.

This ArtWorkBook Bootcamp is presented by an enthusiastic, seasoned speaker, teacher, author, former multimedia instructor who is passionate and enthusiastic about sharing ideas with her colleagues. She has spent the last three decades teaching art on and off the computer as well as presenting at both the state and national conferences. She has provided staff development across the United States and across her native state of Texas. She delivered an exciting key note address to the Washington Art Education Association in Seattle. She has too many ideas to keep tucked away in a file cabinet or slide tray or burned to CDs or DVDs. These archives are intended to be shared to spark new ideas on ways to teach the high school or middle school and if simplified the elementary curricula. Attend and have fun while planning your year.

Send Cool E-cards to other Art Enthusiasts at Cool Art Cards To do so: type in user: artguest and password: Cool123

Workshops can be designed in weekend retreats for a group of colleagues and can be paid by school p.o., credit card or check. Here is a copy of the three day workshop agenda ArtWorkBook Bootcamp Agenda These presentations also sparks ideas for those moms who homeschool their children.

ArtWorkBook Bootcamp scheduled to be available after Christmas. Book now for customized workshops. See eventual gallery of Art Student Porfolios to see more examples of student work to be shared and discussed.

Enjoy my little experiment of showing electronic portfolios here online. Here is Kim's senior year Advanced Placement (AP) portfolio with the images only and without her concentration commentary statements. Enjoy Kim's AP Portfolio. Many others will be made available as I learn the new technologies. Advanced Placement commentary has been intentionally omitted in the Quicktime movie as it was impossible to read and will eventually be shared in the Members ONLY section of My Virtual Art Room.

Chelsea, now a practicing Texas artist when she was a junior and a couple of weeks before portfolio submission, another classmate of hers admitted that he would not finish his AP porfolio. I looked to Chelsea who was not in the AP class and had been cranking out impressive work. She got busy, wrote her commentary, and photographed her body of exemplary work and scored the highest score possible. You will see why when you look at Chelsea's AP Portfolio. Several students in her class attended night classes at the Art League of Houston in order to be able to experience the life drawing of nude models.

A classmate of Chelsea's was Barbara who actually won a summer scholarship to Milwaukee Institute of Art which added such quality to her already strong body of work. When I look at Barbara's AP Portfolio, I remember well the day she and I sat on the bench outside my classroom talking about her AP commentary idea of how an each artist is like a scribe who records their life.

Jessica's AP Portfolio is evidence of how a devoted artist can get this work done. She was another very prolific and very talented junior art student who was ask near AP portfolio deadline time if she would like to submit an AP portfolio, she jumped in and got it done also receiving the highest possible score.

It was my pleasure and privilege to be Texas' first electronic media instructor in a Texas Magnet school program. My students worked in both traditional and digital media. It was truly a dream come true. Second year student Martin set an intention to work in Adobe Photoshop to learn how to manipulate images of himself. A year earlier in Electronic Media 1 is Martin's Art I Flip Book Animation that gave the title of his presentation, Movie Magic. Eventually you will see Martin's comical and entertaining self portraiture multimedia presentation which demonstrates the power of intentionality. Martin added the sounds the day before students presented final exams which were end of course presentations. We were pleasantly surprised. I have to figure out how to get the sound files captured and all of it recorded as a quicktime movie.COMING SOON!

Did you know you could send Cool E-cards to other Art Enthusiasts?
To send Cool Art Cards Type in user: artguest and password: Cool123

More examples of the MEMBERS ONLY portion of the web site will be presentations are podcasts like the Art Work Book Podcast and webinars .

Here are some examples of bootcamp projects which will be shared: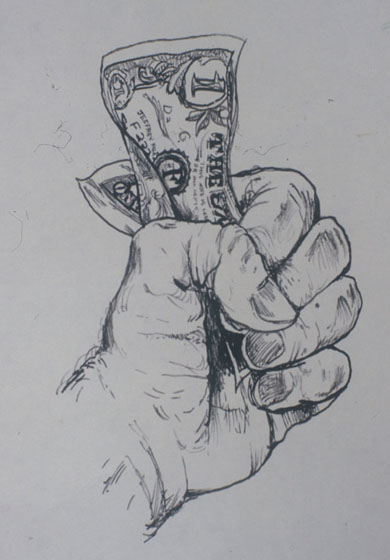 Art I: Jeff's contour drawing done with a toothpick dipped in ink.
See Jeff's entire portfolio of amazing art work in Student Art Portfolios.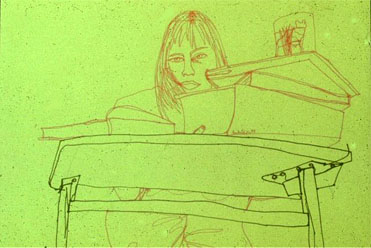 Art II: Drawing People in Contour: Student studying in colored markers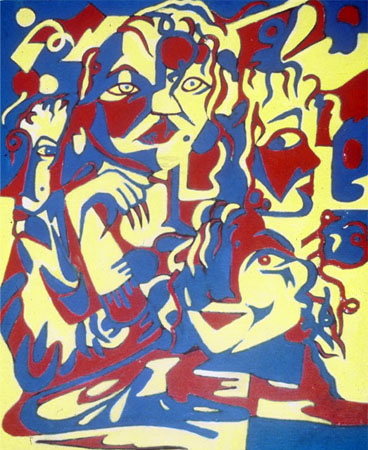 Art 3: Do As the Artists Do: "inspired by Picasso's "Three Musicians "

Send Cool E-cards to other Art Enthusiasts at Cool Art Cards
To send an E-card: User name: artguest Password: Cool123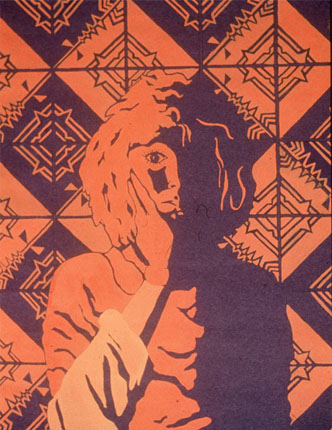 Art 4: Push and Pull:
Traci's model under spotlight with pattern, part of a 4-part design series.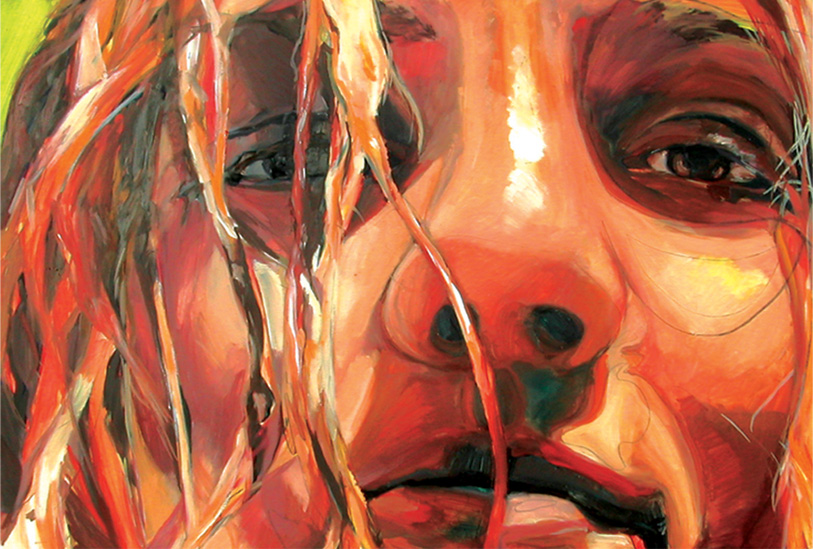 AP Studio Art portfolio piece: Brad's interpretation of Jessica in oils.
See Brad's entire portfolio with a junior and senior AP Art portfolio.
Altered Books, sketchbooks, and journals — great way to extend class content.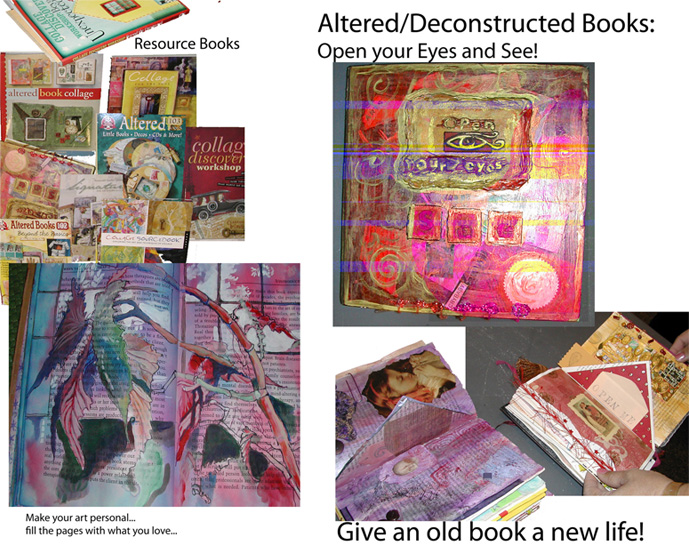 Interested in an Art Work Book Bootcamp in your area?
To sign up or check the availability for future bootcamps, go Back to IDEA INSTITUTES to fill out an interest form. I would love to customize a session for your group.

Hear Participant's Comments from enthusiastic educators in workshops including state and national presentations, staff developments, ArtWorkBook Bootcamp, and the fun and entertaining Idea Institute series.
Send Cool Art Cards to other Art Enthusiasts. Enter: User: artguest Password: Cool123

See participants enjoying their day among other art enthusiasts. Lamar CISD and Ector CISD art educators spent several days together developing ideas for their school year. Repeat performances are in the works. Let me hear from you if you would like to plan a session in your district or state organization. I love sharing ideas.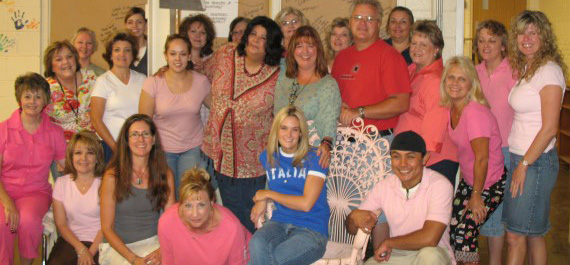 Above are the art teachers in Odessa,Texas from Ector County ISD.
What a wonderful group of talented educators.



Fabulous group in Rosenburg, Texas,'are the Lamar CISD art educators. Here we are completing an opening of school ArtworkBook Bootcamp session. We had two more imformation packed days during February 2010 and 2011.
NOW—Something JUST for YOU:
Download some freebies to see and experience some samples of the kinds of handouts you will get in your copy of the over 54 pages of the Art Work Book Bootcamp Training Manual.
During my over three decades of teaching, I loved my foundations art classes, the little darlings needed some help in knowing what was due in their end-of-semester and end-of-course portfolios, provided for them was an Art I checklist that kept us both organized.
Visual reinforcement serves as a great reminder of all the expectations that you may have in any given assignment. My classes had a choice to do either a sketchbook journal or to take an old book and create a deconstructed/altered book so once again an Altered Book Checklist was developed to assist them in remembering all the creative possibilities.

A first year art teacher was considering setting up stations as a unique learning opportunity for her middle school students to experience lots of things to make in the last grading period, Six Weeks of Sensational Things to Make was a result of brainstorming some possibilities for those inspirational stations.

Sign Up to Get Goodies!
Notice on each page of the web site you see a small box asking for your name and email, be sure and sign up to get your FREE Notes in Painting in Watercolor EBook emailed to you and other mailings of goodies throughout the school year. Don't worry, you won't get slammed with lots of stuff, as I have too much going on in my "unretired life" to be a bother. I'll also NOT give your name away as I hate SPAM as much as you do.
This is my STORY and I'm Sticking to it!

My apologies as both of my art sites have been partially out of commission as a result of someone's challenge to "crash those sites." As Dr. Joe Vitale said, " I was worthy of being hacked." More is being added and the original content is being replaced with more than 1600 images of art and now electronic presentations and downloadable handouts. My intention is to eventually offer all of the state and national presentations and all the end of course student presentations in my possession—and that's a lot of really cool stuff. So— thank you for your patience and come back often to see the latest updates. Let me hear from you if you need anything or have any concerns or considerations. Visit often for new material and offerings.
"Every time we choose to fulfill our function—we are in that moment choosing to be happy."
Many Special Thanks!
There are so many expressions of gratitude that we can each express. It is a good thing to say thanks each day. When I appreciate what I have it seems solutions show up more quickly. When I allow them and listen to that still small voice. This series of sites is something that has been nudging me most of my life. Ideas are like God talking inside our heads. So to have this series of sites finally being realized inspire feelings beyond words.
Someone said that "each time a person dies a library is burned." Do you know how many people told me ( referring to my samples of student work)to" throw all of that junk away." I couldn't my heart was attached to this dream. This library, this site and all the student work chronicles my incredible teaching life and is now being made available for YOU and celebrates many an art spirit. It is my intent that you find it useful to maintaining a quality art program.
To conclude, Melody Beattie in her book, Gratitude:Affirming the Good Things in Life said,
"Gratitude unlocks the fullness of life, makes things right, turns what you have into enough, and more. Gratitude turns denial into acceptance, chaos into order, confusion into clarity. It can turn a meal into a feast, a house into a home, or a stranger into a friend. Gratitude makes sense of our past, brings peace for today, and creates a vision for tomorrow."
Thank you from the bottom of my heart!
Other Staff Development Sessions
Previous staff development sessions are listed below in the following school districts and locations:
Aldine Independent School District, Houston, Texas
Birdsville Independent School District, Fort Worth, Texas
Brazosport Independent School District, Brazosport, Texas
Colleyville Independent School District, Colleyville, Texas
Diboll Independent School District, Diboll, Texas
Ector County Independent School District, Odessa Texas
Fort Bend Independent School District
Lamar Consolidated Independent School District, Rosenburg, Texas
Mesquite Independent School District
Region IV, Huntsville, Texas
San Francisco Unified School District, San Francisco,California
Streamwood High School in Chicago Illinois
Spring Independed School District, Spring, Texas
TexArkanna Independent School District, TexArkanna, Texas
Washington Art Education Association, Seattle, Washington
Texas; San Francisco, California; Washington D.C.; New York City, New York; New Orleans, Louisiana; Chicago, Illinois, @ NAEA Convention
Texas: Austin, Abiline, Dallas, El Paso, Fort Worth, Galveston, Houston, and San Antonio, @ the TAEA Conference
Application Information

The Art Work Book Bootcamp introductory classes and special-focus workshops fill on a first come-first served basis. Class size is kept small for hands on sessions to ensure that each attendee receives the maximum benefits of the materials, resources and interaction with the instructor (s). The lecture-formatted presentations when presented at both state and national conferences were filled to capacity with every inch of the floor occupied by enthusiastic audience members. Admission is limited to several individuals with small group rates. Keynote address is available to larger groups.

Admission Guidelines

Admission to Art Work Bootcamp is secured by your application in a written request only via e-mail or snail mail.

All applications must include your full payment to secure booking.
Application Deadline

Your completed applications and fees for all courses must be received six weeks prior to the workshop. Candidates are notified of availability within two weeks of their requests. Candidates must respond within two weeks to either confirm or cancel their reservation. Groups placed on a waiting list will be contacted if availability occurs.

Fees and Expenses

Art Work Book Bootcamp fees vary.
See estimated fees and expenses per session.
Tuition (1 hour class): $250* (up to 25 participants)
Tuition (3 hour class): $500* (up to 25 participants)
Tuition (1-2 Day Workshops: $1500 to $3500* (9:00-Noon 1:00-3:00) (up to 15-25 participants)
Supplies with handouts (in color): Additional costs of $250-$500 or more depending on requests.
Processing Fee: $25
Total Fee will vary between $250-$3500 depending upon requests (not including handouts and supplies).
Click here to request an Art Work Book Bootcamp Workshop.
Summer 2010 Eve's Garden, Texas, Art Work Book Bootcamp, Brookshire, Texas
2012 Cruise with your Muse: Details forthcoming
For More Information

To find out more about the Art Work Book Bootcamp ( AWBBC) or to arrange a special session, please contact Joan by e-mail @: jmh5@mac.com with SUBJECT LINE: AWBBC Interest ( which is the best way to make contact). Thanks look forward to hearing from you.
ONLINE SESSIONS: COMING SOON!
Online versions of these sessions will be made available in the MEMBERS ONLY section of My Virtual Art Room.


Telephone: 281-494-2678 . Office hours are M-F, 9 a.m. to 5 p.m. CT
Note from the author:

It has taken years to gather, organize, and refine the pages and the material housed on this and the sister sites featuring the newly revised The ArtWorkBook series. Now, YOU can benefit from these comprehensive resources. I would love to hear from you. Share your success stories and interests in various art processes in the eventual "Get published" MEMBERS ONLY section of My Virtual Art Room
Send Cool Art Cards to other Art Enthusiasts. Enter: User: artguest Password: Cool123

Let me hear from you. Share your success stories and interests in various art processes in the eventual "Get published" MEMBERS ONLY section of My Virtual Art Room
Any Interest in your own VIRTUAL ART ROOM?
Another idea is to add virtual art rooms so that teachers from around the world can have an online classroom of their own to share their student's art work and their classroom successes online. Let me hear of your interest in joining me online with a classroom next door to share what we each do so we can all derive benefits.Email me with SIGN ME UP! in the subject line.