With 34 years in the field of art education, Joan Maresh-Hansen experienced the beginning of the digital art technology and has continued in the pursuit of mastery in the manipulation of design software programs. In Bootcamp for 21st Century Classrooms: Technology Training she shares a wealth of experience and collected works from various students' digital media assignments.
Presentations featured are many multimedia assignments and the coursework using digital technologies. The stories behind the pictures will inspire and motivate educators into embracing digital technology and its implementation in their classrooms. Her vision and method will benefit educators and it will enhance the interaction between teachers and students in the instruction and learning of multimedia software. She is currently pursuing a grant that will fund a national non-profit Bootcamp for 21st Century Classrooms.

Bootcamp for 21st Century Classrooms: Technology Training
"The place where there are more great ideas than memory to store them."

Software used include:

ClarisWorks (now AppleWorks)

Adobe Photoshop-now part of Creative Suite 4 (CS4)

Adobe Pagemaker (now called In-Design in CS4)

Adobe Illustrator (CS4)

Hyperstudio

Macromedia Director and Dreamweaver (CS4) and Flash

Specular Infini-D

Morph or Elastic Reality

Painter

Microsoft Office Suite (Word, Excel, PowerPoint, and Entourage)
Read enthusiastic participants comments.
Special Focus workshops are available upon request. Creative Juice: Power to the Artsy People is one of my favorites from beginning to end, you will be visually saturated with incredible ideas and student work.
Course Offerings:
Session I:

FOUR COMPUTER ART CLASSES begins with strategies on how to manage students using from one to twenty computers in the art classroom. Scheduling, organization, and management techniques are introduced on how to ensure that each student receives enough computer time. What follows are curricula delineating four (4) levels of electronic media coursework.


First year: Instruction focuses on teaching students how to create presentations using multimedia. Storyboarding, sequential development, and how the animation process can assist teachers in introducing multimedia are covered.
Flip-book animations was introduced as a teaching approach to learning the tools of the multimedia software. Ben used his flipbook to give himself credit in his cartoon story of Stupid Guy.

Second year: Instruction emphasizes teaching second year students how to use image manipulation software and how to create digital presentations.
Digital artist Sandra Levine inspired an assignment called four faces, here Robert showed his progress sequentially as he added vivid color to his contour drawings of his favorite musical group in line drawn images. Unfortunately, the Specular Infinit-D 3-D movie of the crane picking up his artwork is not yet playing at the end. I will work on getting that to work.It's amazing

Third year: Instruction covers teaching third year students how to further their knowledge in manipulating their own original art for the pages of their own desktop published books, which I called Published Personalities.
Hannah designed her blank journal—her Dreambook, using her photos and art manipulated in Adobe Photoshop as a place to house her dreams.

Fourth year: Instruction shows seniors how to create an entire marketing campaign for their own end of the year art exhibitions. Teachers will learn how to effectively instruct students in creating posters, post card invitations, artists' tags with statements, sign in books, and artist catalogues.
Session II:

ARCHIVING AP PORTFOLIOS focuses on how to instruct students in creating advanced placement studio art portfolio submissions. Art teachers will learn how to effectively help students in the preparation of documents for college board requirements. This session ends in a series of multimedia presentations of successful AP Studio Art portfolios, along with commentary from Joan's incredibly talented former art students. See amazing examples of student work housed in electronic portolios as samples of a portion of what you will see when attending The Art Work Book Bootcamp or check out the Art Student Portfolios .


Flip Book Animation leads to Multimedia presentations

This presentation of images grew from Joan's teaching of students on how to build a presentation using various design software programs. Designing flip book animations allowed students to practice the various design software features and tools while simultaneously drawing a cartoon sequence. Students learned to create a sequence of events using the forward and back buttons. Electronic flip books allowed students to learn the tools, add buttons, and tweak their imagination.

First year students were asked to do animation by creating a four-page flip book. Joan's students loved this exercise so much that many of them exceeded the page requirements. The record page count was up to a 253 page flip book from a very enthusiastic student. Various ways to incorporate a flip book into a presentation occurred such as a lead in for the presentation or in the ending credits or even a commercial for their presentation. Students' imaginations soared during this exercise and students did some incredible projects.

Image Manipulation

Second year students learn image manipulation with their own original photos and artwork using Adobe Photoshop. Students love experimenting and manipulating in Adobe Photoshop. Below is an example of Yvonne's own photos as the subject for experimentation.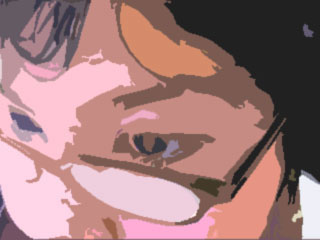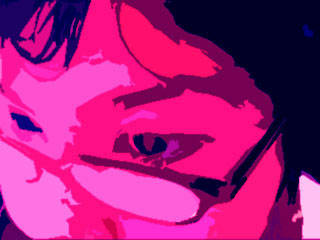 Justin experimented with his own digital self-portrait using the Painter program and image manipulation software.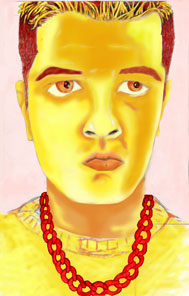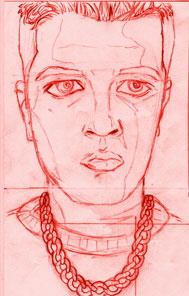 Below is an excerpt from Martin's poster series and animated multimedia presentation with funny manipulations of digital photos of his self-portrait.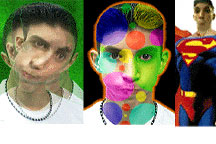 Note: An Andy Warhol-like assignment in McGraw Hill's 2005 release of Digital Studio Projects will be expanded upon in the soon to be released Digital Design Book & Diaries. Joan collaborated with her students on each of the projects in this book. The students were very involved in the project and they did amazing work.

Creative Book Design & Desktop Publishing

Third year examples of student coursework are featured in this presentation. Students were challenged to create their own books. Instruction to students included developing the theme, purpose, title and introduction, and table of contents. They developed the theme and purpose of their books, created a title and introduction and table of contents. They designed each page by manipulating their own original art, upon completion, the books were printed and bound.

These "Published Personalities" were absolutely incredible! Here is Tina's introduction statement in her book.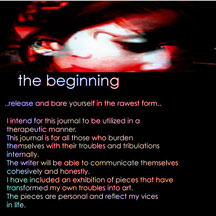 Below you see the final draft along with the "mini-me" version that had to be submitted for teacher approval before they could continue toward the completion of their final copy of their larger books.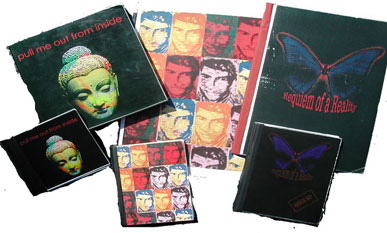 Marketing Themselves as Artists

This presentation features works of senior art students who were instructed to prepare a marketing campaign for their own Senior Art Exhibition. Below you see two Senior Show Catalogues, which included all of the artwork that had been on exhibition in addition to each of their artist's statements. An introductory explanation of their exhibit was required as well as concluding remarks, and expressions of appreciation. The catalogue was only one part of their marketing campaign for their Senior Shows.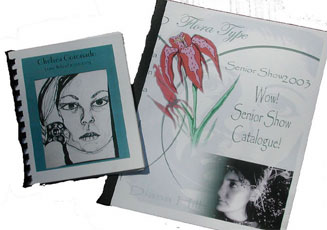 The second part of the campaign involved creating a front and back side of a post card invitation, a poster or flyer advertising their show, artists tags for each piece of work with completed artist's statements with the title, media and size of each work, a sign in book, a show catalogue and a one page flyer called a "leave behind" or paper portfolio with an 8" by 10"flyer of their best works, an artist's statement, and resume contents. These projects were created for talent scouts from colleges, prospective bosses, and proud parents. This "leave behind" provided a memorable visual evidence of the student's artistic style.

A representative from a major university in Boston who traveled across the United States in search of prospective students visited the school in Texas where Joan taught. The representative then visited numerous other schools across the USA. She was very impressed and remembered the "leave behinds" of Joan's students. She contacted Joan to comment on the quality of her students' work and the how the "leave behinds" left an indelible impression in the mind due to the talent and quality of the works. Check back periodically for additional images of students' leave behinds and marketing campaigns.

More Independent Projects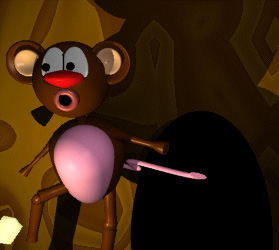 We will be adding more images of students' independent projects so come back often to check on what's new.

ArtWorkBook Bootcamp

This new and exciting bootcamp will saturate the audience with visually exciting and inspiring multimedia presentations that introduce the full-color, newly revised, 1990 publication of The ArtWorkBook series. This five part series of presentations introduces the art educator to THOUSANDS of images and ideas to inspire a productive year of teaching art in various levels. First year, second year, third year, and fourth year students' artworks are presented. The exceptionally rich multimedia presentations will show various Advanced Placement Studio art portfolios of individual students and portfolios of various successful projects. Archived collections of student artwork will spark new ideas on ways to teach the middle school and high school curricula. Attendees will have fun in this bootcamp, and leave with fresh new ideas in planning their school year.

Presenter Joan Maresh-Hansen is a seasoned speaker, teacher, author, and former multimedia instructor who is passionate and enthusiastic about sharing ideas with her colleagues. She has spent the last three decades teaching art on and off the computer as well as presenting at both state and national conferences. She has provided staff development seminars across the United States and across her native state of Texas. She delivered an exciting keynote address to the Washington Art Education Association in Seattle.

Workshops can be designed in weekend retreats for a group of colleagues and can be paid by school purchase order, credit card or check. A limited number of scholarships are available upon requests.

Book now for ArtWorkBook Bootcamp 2008-09 customized workshops.

Visit the Cool Art Store .

Coming Soon!

For more information about this upcoming section, contact jmh5@mac.com or the Webmaster with SEND Notification of Cool Art Store Opening in the subject line of your email. We will notify you when the Cool Art Store is available.

Student Portfolios

This is a gallery of student portfolios. Enjoy the more than 1800 pieces of art work created in my 34 years in my amazing teaching life!



Other Staff Development Sessions

Hear comments of participants in previous staff development sessions. See listing of previous staff development sessions in the following school districts and locations:
Aldine Independent School District, Houston, Texas
Birdsville Independent School District, Fort Worth, Texas
Brazosport Independent School District, Brazosport, Texas
Colleyville Independent School District, Colleyville, Texas
Diboll Independent School District, Diboll, Texas
Ector County Independent School District, Odessa Texas
Fort Bend Independent School District
Lamar Consolidated Independent School District, Rosenburg, Texas
Mesquite Independent School District
Region IV, Huntsville, Texas
San Francisco Unified School District, San Francisco,California
Streamwood High School in Chicago Illinois
Spring Independed School District, Spring, Texas
TexArkanna Independent School District, TexArkanna, Texas
Washington Art Education Association, Seattle, Washington
Texas; San Francisco, California; Washington D.C.; New York City, New York; New Orleans, Louisiana; Chicago, Illinois, @ NAEA Convention
Texas: Austin, Abiline, Dallas, El Paso, Fort Worth, Galveston, Houston, and San Antonio, @ the TAEA Conference
Application Information

Bootcamp for Twenty-first Century Classrooms' introductory classes and special-focus workshops fill on a first come-first served basis. Class size is kept small for hands on sessions to ensure that each attendee receives the maximum benefits of the materials, resources and interaction with the instructor (s). The lecture-formatted presentations when presented at both state and national conferences were filled to capacity with every inch of the floor occupied by enthusiastic audience members. Admission is limited to several individuals with small group rates. Keynote address is available to larger groups.

Admission Guidelines

Admission to Bootcamp for Twenty First Century Classrooms is secured by your application in a written request only via e-mail or snail mail.

All applications must include your full payment to secure booking.
Application Deadline

Your completed applications and fees for all courses must be received six weeks prior to the workshop. Candidates are notified of availability within two weeks of their requests. Candidates must respond within two weeks to either confirm or cancel their reservation. Groups placed on a waiting list will be contacted if availability occurs.

Fees and Expenses

Bootcamp for Twenty First Century Classrooms' fees vary.
See estimated fees and expenses per session.
Tuition (1 hour class): $250* (up to 25 participants)
Tuition (3 hour class): $500* (up to 25 participants)
Tuition (1-2 Day Workshops: $1500 to $3500* (9:00-Noon 1:00-3:00) (up to 15-25 participants)
Supplies with handouts (in color): Additional costs of $250-$500 or more depending on requests.
Processing Fee: $25
Total Fee will vary between $250-$3500 depending upon requests (not including handouts and supplies).
Email your request to check for availability for a Bootcamp for 21st Century Classrooms Workshop.
Summer 2010 Eve's Garden, Texas, Bootcamp for 21st Century Classrooms , Brookshire, Texas
2012 Cruise with your Muse: Details forthcoming
For More Information

To find out more about the Bootcamp for 21st Century Classrooms
( BC21C) or to arrange a special session, please contact Joan by e-mail @: jmh5@mac.com with SUBJECT LINE: BC21C Interest ( which is the best way to make contact). Thanks look forward to hearing from you.
ONLINE SESSIONS: COMING SOON!
Online versions of these sessions will be made available in the MEMBERS ONLY section of My Virtual Art Room.


Telephone: 281-494-2678 . Office hours are M-F, 9 a.m. to 5 p.m. CT
Note from the author:

It has taken years to gather, organize, and refine the pages and the material housed on this and the sister sites featuring the newly revised The ArtWorkBook series. Now, YOU can benefit from these comprehensive resources. I would love to hear from you. Share your success stories and interests in various art processes in the eventual "Get published" MEMBERS ONLY section of MyVirtualArtRoom.com
Send Cool E-cards to other Art Enthusiasts at Cool Art Cards

Let me hear from you. Share your success stories and interests in various art processes in the eventual "Get published" MEMBERS ONLY section of MyVirtualArtRoom.com
Any Interest in your own VIRTUAL ART ROOM?
Another idea is to add virtual art rooms so that teachers from around the world can have an online classroom of their own to share their student's art work and their classroom successes online. Let me hear of your interest in joining me online with a classroom next door to share what we each do so we can all derive benefits. Email me at: jmh5@me.com with SIGN ME UP! in the subject line.